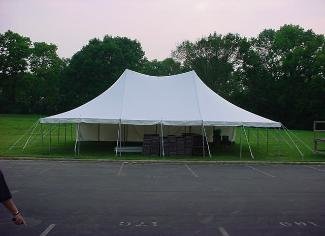 20' X 30' (600 square feet) Pole Tent on grass




$235.00

Call 248-688-4640 to reserve items.

This classic pole tent from Party Dreams is a great tent for outdoor activities. These tents use tie-down ropes as anchoring, and can only be installed on grass or softer surfaces, which also makes the overall footprint a little larger. Add between 2 and 5 feet to each of the width and length dimensions to account for the tie-downs. Lights, side panels & walls are available.
Approximate seating capacity: 72
Table Capacity: 8 - 8'
Surfaces: Grass or softer
Height: 15'
Length: 30'
Width: 20'