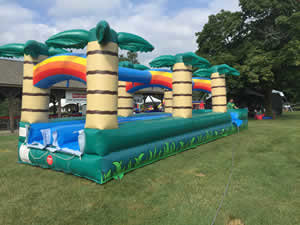 Dual Lane Palm Tree Slip & Slide 1.5 HP Blower




$250.00

Please call our office for availability.

Slip and slides come in all sorts of different shapes and sizes. This particular slip and slide is not your typical backyard plastic sheet on the grass. Instead, an inflatable pad with protective sidewalls becomes your sliding surface. The advantage of the inflatable pad at knee level means that participants can run and dive onto the surface without risking bruising to their body. Two lanes means it's time to race!
Approx. Dimensions:
length
width
height
36 ft.
10 ft.
10 ft.
Customer responsible for electricity, Water supply, and Long enough hose.

We do have generators and hoses available for an additional rental fee.