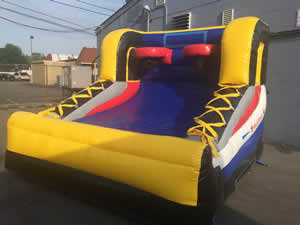 Duel Lane Basketball




$100.00

Call 248-688-4640 to reserve items.

When you're looking for a fun, attractive set up at a public event such as carnivals, fairs or fundraisers, then an interactive inflatable is a tried and true unit that keeps the crowds coming and are a proven money-maker. The Mini Hoop Shot Inflatable Basketball Game is a classic interactive inflatable, featuring basketball shooting. Two friends or strangers can go head to head, or participants can simply shoot by themselves. Whether it's for personal pride, prizes, or just promoting friendly competition between older kids and party going adults, this unit is the perfect
Approx. Dimensions:
length
width
height
10 ft.
10 ft.
8 ft.
Customer responsible for electricity.
We do have generators available for an additional rental fee.
Please Note: Basketballs not included