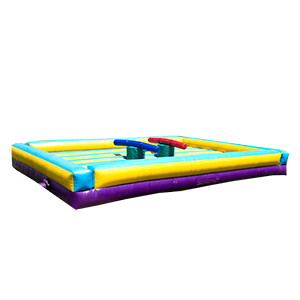 Joust




$250.00

Call 248-688-4640 to reserve items.

On the count of three, the players do their best to knock each other off the platform using the jousting poles. First player to knock their opponent off the platform is the winner and is the ultimate champion.
Keep in mind that this inflatable rental is meant for ages 9 and up, making it ideal for middle school to high school graduation parties, bar mitzvahs, corporate event team building exercises or any sports themed event. This inflatable game is so much fun even the adults want to take turns!
Approx. Dimensions:
length
width
height
23 ft.
21 ft.
4 ft.
Customer responsible for electricity.
We do have generators available for an additional rental fee.

Includes: Two platforms and two jousts