Over 600 Party & Event Rental Items
Red Rope & Silver Stanchions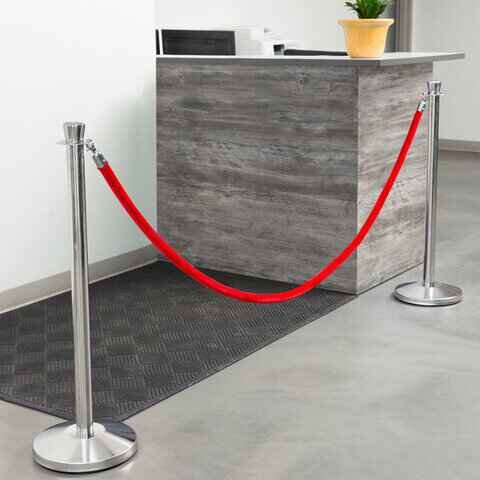 $30.00
Multi Day & Long Term Rentals Available

Setup Area: 8 foot rope
Actual Size: 40 inch stanchions
Description
Red Rope & Silver Stanchion Rental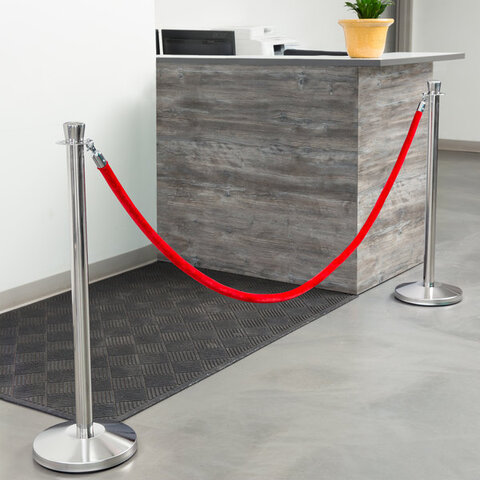 Guide your guests to a desired location with this Lancaster Table & Seating 40" gold rope-style crowd control / guidance stanchion set with 8' red rope.
Crowd control is necessary for large or elite venues, and this particular stanchion set is perfect for the job. Featuring a red velour design with bright, gold ends and stanchions, it's sure to blend in with your business's aesthetic while showing guests where to go for the show, dining room, gallery, or other location. It's also great for roping off areas where guests should not go, alerting them to their surroundings and discouraging them from passing through restricted areas.
Elegant Design
Each stanchion's classic, ball top design and sleek, mirror polish finish lends an elegant appearance, while the velvet, red rope's 8' length provides you with enough slack to create a simple, stylish pathway. This makes the set an ideal addition to hotel lobbies, restaurants, casinos, and art galleries.
Easy to Use
The soft, plush rope boasts brass hook ends that can easily be clipped to the connection bars on the stanchions for quick rope movement. To form a longer line, simply add additional stanchions and ropes.
Sturdy Construction
Both stanchions are also equipped with a wide, weighted base to prevent them from tipping or sliding across your venue's floor. This ensures that the set remains safe and upright, not posing a danger to staff and guests. In addition, their metal construction adds extra durability.