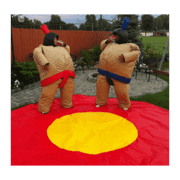 Sumo Wrestling Two Suits With Mat




$200.00

Please call our office for availability.

Settle disputes the ancient way by zipping up a sumo suit and going to battle. These outrageously fun suits envelop your frail body with hefty padding and a sumo styled hairpiece helmet that let you charge your opponent head-on without risk of injury.
Includes: Two Suits, Head Gear and Ring