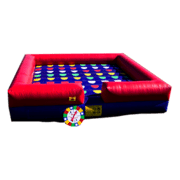 Twister




$130.00

Call 248-688-4640 to reserve items.

Instead of playing on your conventionally uncomfortable floor based Twister, opt instead for the giant inflatable Twister mattress. This inflatable version of the ever-loved game will cradle you and bounce when you twist, tumble, and fall.
Approx. Dimensions:
length
width
height
15 ft.
15 ft.
4 ft.
Customer responsible for electricity.
We do have generators available for an additional rental fee.

Includes: Spinner