Audio-Technica AEW-4230AD Wireless Handheld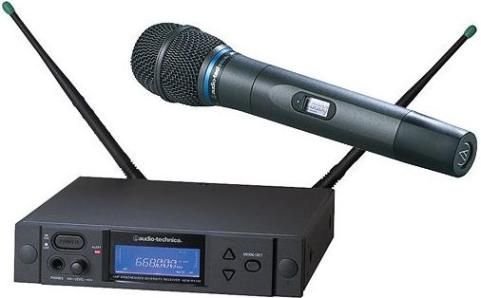 Description
Audio Technica Wireless Handheld Microphone Rental.

Are you searching for a audio technica wireless handheld microphone rental near me? Party Dreams Wedding & Event Rental has a large inventory of production AV rental equipment for weddings, meetings, conferences, fundraisers, grand openings, ground breakings, fashion shows, presentations and trade shows. Our inventory is supported by a creative team of experts in every product category. Party Dreams supplies the advanced technology to an array of clients in the production industry. Working with Party Dreams Wedding & Event Rental means having access to team of experts in AV rental including: Audio, Video, Lighting, LED, Mixers, Rigging, Microphones, Amplifiers, Speakers, Wireless Microphones, Pop up screens, Fast fold screens, Inflatable screens, Lavalier Mics and more.
Michigan's #1 event & party rental source for a Audio Technica Wireless Handheld available for rent near me. A wireless microphone, sometimes known as a cordless microphone, is a microphone that does not physically have a cable extending from it to the sound recording or amplifying equipment it is connected to. It is sometimes referred to as a radio microphone because it contains a tiny, battery-operated radio transmitter that uses radio waves to broadcast the audio signal from the microphone to a receiver device that is close by and recovers the audio. The receiver device is cabled to the additional audio gear. In one design, the body of the portable microphone houses the transmitter. With a different design, the transmitter is housed in a separate device called a "bodypack," which is typically attached to the user's belt or tucked away beneath their clothing. A "lavalier microphone" or "lav" (a small microphone attached to the user's lapel), a headset or earset microphone, or another wired microphone is linked to the bodypack via wire. A wired instrument connection is supported by the majority of bodypack designs (e.g., to a guitar). In the entertainment industry, television broadcasting, and public speaking, wireless microphones are frequently used to allow performers, interviewers, and entertainers to move around freely while using a microphone without needing a cord tied to the microphone. As they let the transmitter to employ a small, discreet antenna, the VHF or UHF frequency bands are typically used by wireless microphones. Inexpensive units employ a fixed frequency, however the majority of equipment offer a selection of numerous frequency channels in case of channel interference or to support the simultaneous use of multiple microphones. The most common modulation method is FM, although some models also employ digital modulation, which operates in the 900 MHz, 2.4 GHz, or 6 GHz ISM bands and prevents unlawful reception by scanner radio receivers. In some configurations, nulls are prevented from interfering with transmission when the performer moves around by using antenna diversity (two antennas). Although these devices necessitate a direct line of sight between the microphone and receiver, a few inexpensive (or specialized) models use infrared light.