Black Skirting 14ft x 29 Inch (No plastic tables) 14 clips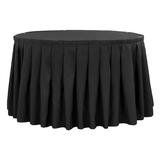 $15.00
Multi Day & Long Term Rentals Available

Description
14ft x 29inch Black Skirting Rental.
14' Floor length skirting for 6' rectangle or 60" round tables or stage with clips.
Are you searching for table or stage skirt rental near me? Party Dreams Wedding & Event Rental has white skirting, black skirting, blue skirting, red skriting and ivory skirting. The skirts rentals vary in size depending on what they are being used for such as 6ft tables, 8ft tables, bars, bar riser or on our portable staging rental. Skirting rentals come with clips and are only able to be used on our wood tables, the clips will not fit on plastic tables.