Giant Jenga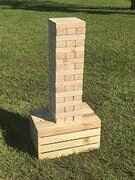 $20.00
Multi Day & Long Term Rentals Available

Description
Giant Jenga Game Rental.
ÂTax and delivery not included

Are you looking for Giant Jenga Rental near me? This classic game is a popular choice for many outdoor and indoor events, such as picnics, tailgating, weddings, birthday parties, and BBQs, among others. Corporate events and team building exercises are also popular. A fantastic coordinating and puzzle game for players of all ages. The rules are simple: stack the wood pieces in groups of three, then take turns removing one and placing it on top of the tower until it collapses. The tower grows taller as you play longer! Making up your own rules or creating an entertaining drinking game is also enjoyable.