PINPOINT GOBO COLOR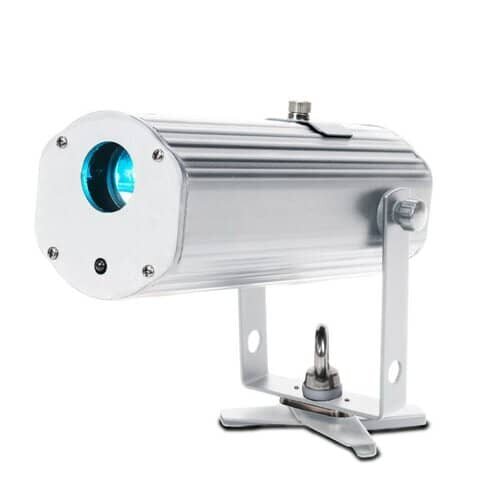 $35.00
Multi Day & Long Term Rentals Available

Description
Color Gobo Light Rental.
Tax and delivery not included

Communicate your message in light! The ADJ PinPoint Gobo Color is a battery powered GOBO projector powered by a 10-Watt Quad (RGBA 4-in-1) LED. It includes 4 standard removable GOBOs and a frost filter to defuse the beam for wider washes of light. When the GOBO is remove it may be used as a pinspot to spot tables, decor, architecture or used for special effects.
The PinPoint Gobo Color has an easy replaceable GOBO holder so that user may interchange the supplied GOBOs or to insert custom GOBOs. It features a magnetic bracket so the fixture may be quick attached to metal, plus a X-Clip mount is also included to attach to the metal in drop down ceilings.
The battery has a charge time of 6 hours to achieve a full charge. The battery life is rated at 5 hours (full on) or 18 hours when set in energy saving mode. On the side of the fixture are sliders to manually adjust the focus and beam angle.

Learn more about the Pinpoint Gobo and Pinpoint Gobo Color from this product spotlight:
Rechargeable battery powered, bright 10W RGBA 4-in-1 LED Pinspot / Gobo Projector
17-33-degree variable beam
Manual focus
Compact high-tech metal case design
Long-life LED: 50,000 hour LED life
Light Output: 431 LUX @2M; 110.8 LUX @4M (15-degree beam)
Refresh Rate: 1KHz
Power consumption: 11WÂ
Includes magnetic bracket for easy quick install on metal
X-CLIP Bracket for drop ceiling frame mounting
Includes Frost Filter to defuse beam
Includes 4 metal GOBOs
Replaceable Gobo size: 25.8mm; Viewable size: 19mm; Thickness: 1mm max.
Drop in GOBO Slot (for metal gobos only)
Includes Power Adapter (DC 8.7V 1A)
ADJ UC IR Remote Control (Sold Separately) & Airstream IR CompatibleÂ
Battery Charge Time: 6 Hours (With POWER switch off)
Battery Life: 5 Hours (Full On) / 18 Hours (In Energy Saving Mode w/ Full Charge)
Energy saving mode is activated from the UC IR remote (sold separately)
Dimensions (LxWxH): 9.75" x 4" x 2.75" / 245 x 102 x 70mm
Weight: 3 lbs. / 1.1 kgs.

Battery Specifications
Battery Charge Time: 6.5 Hours (Load Switch Off)
Battery Life: 5 Hours Full On in 10W Mode, 10 Hours in 3.3W Mode, 18 Hours in Energy Saving Mode (Full Charge)
Battery Lifetime: Average Lifetime is 500 Charges (This depends on charging frequency)
Battery Type: Fixed Lithium Battery
Battery Energy: 32.56WH (Watt Hours)
Battery Weight: 0.4lbs. / 0.19kg
Battery Voltage: 7.4V
Battery Capacity: 4.4AH
Total Lithium Ion Cells: 4pcs
Battery Wrap Material: PVC Sleeving + Highland Barley Paper
Are you searching for pin spot gobo light rental near me? Party Dreams Wedding & Event Rental carries a huge selection of LED Lighting rentals available in Michigan.
When it comes to party and event lighting rental, Party Dreams Wedding & Event Rental has what you need. We carry a large rental inventory of indoor and outdoor LED lighting. From bistro lights, string lights, uplights, pin-spots, and effect lighting rentals. Such as moving heads, strobe lights, mega led stage wash, led geysers, led cocktail tables, led swings, led cubes, 3D laser lights and dj lighting for rent.
Some of our indoor led lighting rentals are wireless and last approximately 6-8 hours per charge. With most events averaging 4-6 hours, these work great. Just set them where you like and turn them on prior to the event starting. Looking for more time, our wireless units can be plugged in along with our wired units. These will give you endless hours of light. Please note that we only use LED lighting, due to the power savings and variety of colors that can be achieved.
Are you looking to light up the outside? We have outdoor weatherproof LED uplight rental as well. These uplights can illuminate a building or structure and definitely change the mood of your event.
We also rent LED string lights, fairy lights and edison style bulbs for your event.