3 Lane Bungee Run 1.5 HP Blower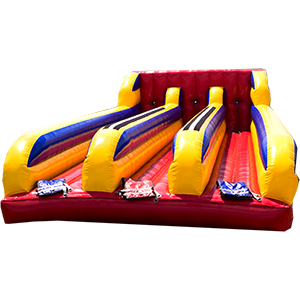 $275.00
Multi Day & Long Term Rentals Available

Description
3 Lane Bungee Run 1.5 HP Blower
Tax and delivery not included

Click any of the following links to view these suggested items:
Tables & Chairs Linens Window Walls Solid Walls Lighting Heaters Fans Dance Floors Staging Decorations/Props Concessions/Catering Audio/Video Retro Arcade Games
Customer responsible for electricity.

We do have generators available for an additional rental fee.

Looking for a way to test your strength? Well, we have the perfect inflatable for you! The Inflatable Bungee Run 3 Lane Rental is a fun addition to any event! So you wear a harness with a giant bungee cord attached. Then the opponents run side by side down the long runway in this interactive inflatable game. The object of The Inflatable Bungee Run 3 Lane Rental is to see who can get farthest down their lane and place a velcro baton on the center strip before the cord yanks them backwards. This is a must have for your teen, college event, after prom and many more. This Bungee Run is special because it has three lanes for triple the fun!
This inflatable bungee run is red, yellow and blue. It is fun, fast and great to play with friends. When you have this at your event everyone will enjoy. It is even fun to watch people run as hard as they can just to get pulled back. Its a fun and friendly competition.